flickr photo shared by mkandlez under a Creative Commons ( BY-NC ) license
I have always found interpreting data, charts, graphs, pie charts, excel sheets, complicated timetables sometimes difficult  to interpret and frankly , sometimes overwhelming. I'm not a fan of too many facts and figures or data being presented in a complicated way and I prefer to go with the story and visuals and a subject that really interests me. Information has gone from scarce to superabundant and so even more important that we not only help our students analyse and reflect on the information they see, but also help them to organise information themselves visually through infographics and data visualisation.
I have enjoyed building my understanding of what good data visualisation should be and  am even more in awe of the creators of exceptional work. To produce good data visualisation  takes planning,  time, understanding and design. David McCandless  is a data journalist and information designer. His blog and title of his  first book is called Information is Beautiful and I have to credit the title of my blog to him. He designs data and information visualisations ranging from the The Hidden Taxonomy of London Hipster Coffee Shop Names Shop to What Makes a Good Visualisation to The Internet of Things.  His way of representing data took away the overwhelming for me and introduced me to the story and the visual that I understand and enjoy.

flickr photo shared by pdinnen under a Creative Commons ( BY-SA ) license
I absoloutely love this data visualisation by Patrick Dinnen  showing a Twitter users' stream data: the coloured ring size corresponds to tweets per hour and the hole size represents the average message length. I have to admit that it took me a while to understand the information. But this form of representation as  Jerr Thorp states in the video The Art of Data Visualisation ,  is also about showing us something we have never seen before, it's about  'revelation' .
                We want to see to learn something, not to see to confirm something.
Our visual system is extremely well built for visual analysis and data visualisation. We are visually wired and infographics help translate data and information into more digestible stories or a visual snapshot. They are a way of making sense of things,  a story about information with the intention of helping us to learn and understand something and sometimes with the intention to persuade. I love the authentic integration of starting with the sketching process and then using technology to create the data visualisation. Giorgia Lupi one of the two designers from the "Dear Data project who is the design director at Accurat writes
although we mostly create digital experiences with data, I still use drawing as my primary form of understanding and as my most important tool for designing every time.
When thinking about  our new unit that is about to start on Responsibility and the 5Rs one of our enduring understandings is Positive Action Starts with us. One of the final assessment pieces will be to consider how to persuade other classes in the school to make a change and take on a Zero Waste Policy . Last year we gave them a choice how they did this. I hadn't considered before that an infographic could also be their final persuasive piece. I read Lauren Purdy's great post which showed her students and her own creative work around infographics. She also cited an article by Brett Vogelsinger  in which he explains how writing skills can be developed through using and creating infographics. This week's reading has really made me search for resources and good examples . There are many examples about recycling and trash, also for Early Years, but many of them had copyright and so I couldn't use them in this post.
When I use infographics  I want to show several examples to the students and for them to consider not only the information, data or message they take from the inforgraphic, but also the design and organisation. After researching their subject, I will be asking them to  first brainstorm their message/ information content,  sketch their ideas and designs and then have a go at making an infographic.  When it comes to the final assessment it will be interesting to see how the students choose to show their thinking, their learning and their powers of persuasion. Often the reflection piece by the student on their work is the most powerful part of the assessment.
I found this infographic which although quite difficult for my grade 1 students, would be interesting to show them to see how much information they could take from this and to make their own evaluation on the design and organisation.
++ Click to Enlarge Image ++


Source:Reusable Bags:Reusable Bags
Last year we used Symbaloo to help them with their research. It is a great tool for bookmarking research resources for the students to explore and last year I uploaded this video. The students were fascinated and shocked by the length of time items take to decompose, so I would use this again to help create content for the students.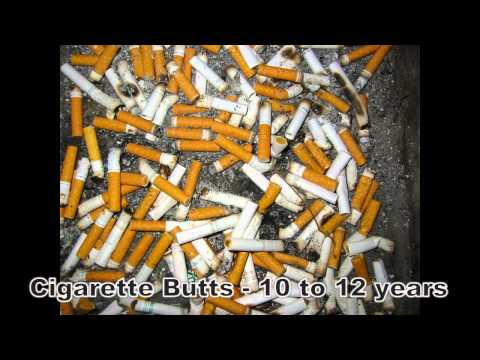 I found this infographic which is much clearer for younger students, but my idea is to now to make my own, adding their own timelines so that they can compare items that will decompose during their school life, adult life and their ' grandparent ' life and beyond . Then it will be over to them to evaluate mine and to come up with their own ideas. Once the students have created their infographics, we will be sharing them on Twitter for some peer feed back and hoping for some retweets to spread the message quickly and to a wider audience.
Alongside these infographics I want to also include images such as this one. I  would also use images on this website Ocean trash reborn as art  which has truly remarkable visuals with a powerful message. I urge you to take a look.
I am looking forward to truly integrating more visual literacy in my classroom across the curriculum. My students are continuing to work on their digital stories and I have been amazed at their growing awareness and ability to cite sources or their problem solving when they don't find that just right image. I showed an example on my post  last week of Candice's first attempt using iMovie.  After reading a peer assessment on our class blog, this week she has gone back to her work and is adding more details and fixing the end of the story.  This is where the true learning is taking place. I will post the two versions when she has finished.
For this week's assignment I have been playing around with Canva ,Piktochart and easel.ly and like how  Megan Kuemmerlin in her post,  Communicate your content suggests using infographics to communicate to parents and teachers.In my reading this week I came across these resources that helped me consider design and organisation and how to make an infographic.
How Real Kids Create Infographics by Kerry Gallagher a great description of the process Kerry Gallagher took to create Infographics with her students.
5 steps to create a powerful visual
How To Design Your Own Infographics
10 Fun Tools To Easily Make Your Own Infographics
Top 5 Early Childhood Infographics of 2013 In this article, an interesting point is made about what kind of images we use particularly in Early Years- beautiful and powerful images or simple carton-like images.
TEDX Talk David MacCandless The Beauty of Data Visualisation
And for amusement, here's how not to do it because if an infographic raises more questions than it answers, then something is not working.