flickr photo shared by Dean Hochman under a Creative Commons ( BY ) license
And that's what makes such a wonderful world. I have loved seeing everyone's messing around and processes around various projects in this course and then celebrating the variety of final posts. They are all so different, as were, I am sure, some of our struggles, frustrations, and joys. The learning from this course for me has been amazing, with ups and downs along the way.  I have joyfully seen these as my most memorable and important learning moments. Having just returned from an inspiring talk by Alan November who opened his presentation with this video, Audri Rude Golberg's Monster Trap, I have been thinking about the learning that I have done and how I have managed my failures and successes during this course. Alan November posed the question:
                             Do we teach kids to manage their own failure enough?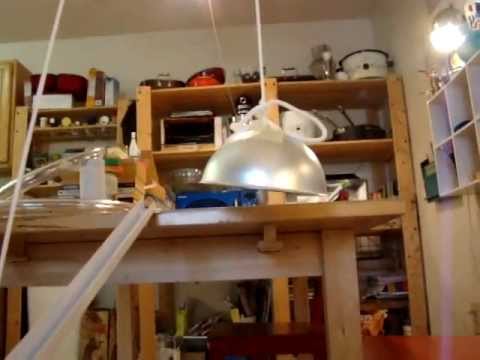 Course 3  has been a really interesting exercise to try new things in the classroom,  learn new skills ,overcome challenges and turn my not so successful moments into learning opportunities, something we often ask of our students. The final project, in particular, made me really reflect on myself as an educator. I am constantly asking myself the question…am I still relevant?
I feel like my teaching and classroom design have had a makeover. I have really started to sharpen up the space I provide for the students. I love this infographic that was shared at a recent conference I attended, Leading a Culture of Learning in a Digital Age with Eric Sheninger
Here's an overview of my 'visible' learning from Course 3.
 I now think much more about colour, design and space in the classroom and I'm still  reflecting and making changes.
I am so much more conscious of the images I use to initiate curiosity and conversations  with the students and  allow them more time to search images and have discussions
I am showing my students how to interpret data using infographics and have messed around creating my own infographics using Canva, Piktochart, Easel.ly and Pages
I have spent time over the course extending digital citizenship amongst my students in the form of attributing sources. The class have recently been working on digital stories and are now citing images used from Pics4Learning and PhotosforClass
I'm continuing to read about and develop digital literacy ideas in the classroom
I have done a lot of messing around to truly understand and appreciate how to integrate  visual literacy
I have taken away images in the classroom that just didn't have that zen feel or deliver a message with clarity or beauty. I talk to my students about this and encourage my students to vote- does it stay or go?
I've tried my hand at zen presentation .  I have just made a presentation about using Twitter in the classroom to our faculty and love the fact that all week, teachers have been asking me to help them start using Twitter in the classroom. It has been a great reaffirming moment for me that my vision is relevant and continues to grow.
One of the most exciting takeaways from this course has been reading and learning abut design. In my last post Information is Beautiful, I wrote about being in awe of exceptional designers when they deliver data with such clarity, beauty and understanding. I never thought producing an About Me page would be easy , but I also didn't think it would be quite so difficult. I read articles on About Me pages, their purpose and style, and about creating infographics as resumes. I made copious notes about what I wanted to convey and started sketching.
I looked at several Coetailer's previous pojects and loved the clarity and design in Jocelyn Sutherland's resume . I started to mess around with pages. I really like the effect, but found it difficult to do on an i-Pad, so after using several tools, I settled for Canva. The most difficult challenge was creating a page for my professional blog that really conveyed who I am.  It was a really interesting process to go through. Unless we have a vision of who we are and how we want to be 'branded'  , how can we help students to develop a vision of themselves and how they want to be seen? My early attempts at an About Me page ended up being very much like a CV and I became confused about what I really wanted to or should convey. My second attempt looked like I was the Outdoor Learning Facilitator. Here's a snap shot.
After seeking advice from colleagues, I went back to my design, changed colours and added just a little bit more about myself. My aim for my page was to produce something that would put me into context for my readers reading my blog . I also wanted to create something to share with my  parents, particularly at the beginning of the school year. I usually write something about myself, but I am looking forward instead, to sharing a more visual 'me' . Lesson to me, make sure I have photos for future use. I wanted to include a family photo, but struggled to find a very recent one, or one that included me. I'm usually the one taking the photo. I am not sure the photo I included will stay.
Having created my About Me page, I wanted to then create a CV. It was such a different process. I created a very simple design and I like the look, but perhaps it doesn't draw people in and I found it difficult to fit in 30 years- one page doesn't fit all.  The process of producing these two pieces is where I have done my most learning, not really the final product.  If you look at my original About Me Page that I created during Course 1, there is quite a contrast and I hope my learning is visible.
I often say to my students that teaching is one of the best jobs in the world.  How lucky I am to work with so many inspiring and supportive colleagues and to have the opportunity to connect to other inspiring educators around the world . That's where the real adventure and learning takes place.